10 Best Frozen Pizza Options to Try This Week
Article posted in:
Nutrisystem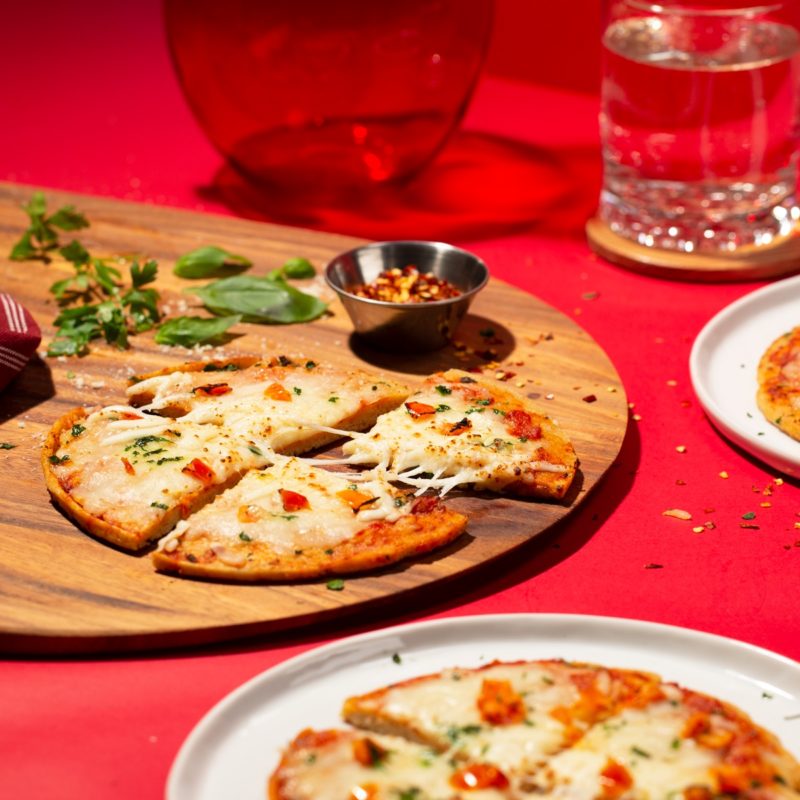 You LOVE pizza—an all-caps kind of love—for so many reasons, starting and ending with all. that. cheese. But when you're trying to lose weight, picking up a few slices from your favorite pizza spot may not be the best choice, especially once you get into fun toppings. And sometimes you just don't have the time (or frankly, the energy) to make a healthier homemade version yourself.
Frozen Pizza Options to Eat At Home
Enter: the best frozen pizzas, courtesy of Nutrisystem. These pies are weight loss-friendly and ready in minutes—perfect for an on-the-go lunch or quick dinner. Plus, these inspired frozen pizza options offer all your favorite tastes and flavors—in all sorts of shapes and sizes, but never derailing your weight loss goals.
Of course, for the classic pizza purists, there are traditional circle pies that offer up authentic slices. But if you're feeling a little fancy, you can choose from a variety of flatbreads. Want the ultimate cheese satisfaction? Sink your teeth into a gooey melt. Or try one of our newest frozen pizza creations: pizza bowls! They've got the yummy pizza fixins' you crave—minus the crust.
Here are 10 of our best frozen pizza options that you should try:
If you prefer your pie plain and simple, this pizzeria classic delivers (no tip required). Zesty marinara, herbed mozzarella and fire-roasted tomatoes sit atop a thin, whole-grain crust. A sprinkle of fresh basil finishes the pie, and a few minutes in the oven provides the perfect crisp to every bite. High in protein (22 grams!), it supplies four grams of fiber for only 230 calories. No need to stop at a slice here: you can enjoy the whole pie and still keep your weight loss on track. Click here to make it yours! >
Consider the flatbread a delectable platform for a world of ingredients. For this one, we head to the Mediterranean for flavor inspiration. Layered on our signature quinoa crust you'll find tangy tomatoes, sweet-and-salty black olives and creamy feta cheese for a sophisticated combo that's only 230 calories. It's perfect as is for a plant-based pizza meal, or you can add grilled chicken and sliced onions for an extra boost of fiber and protein. Click here to make it yours! >
It's your favorite slice, wrapped up into a neat, little package that's packed with protein. Inside the bread crust is a blend of Parmesan, cheddar and mozzarella cheeses. Each perfectly portioned melt provides four grams of fiber and 14 grams of protein for 240 calories. Pop a few of these frozen pizza options into your work freezer for a quick and cheesy lunch that's ready in just a few microwaveable minutes. Click here to make it yours! >
Pizza meets pasta in this hearty bowl that boasts, well, supremely satisfying flavors. It's got penne pasta—an Italian standard. It's got turkey sausage for a savory boost of protein. Riced cauliflower adds heft without extra carbs. And a robust pizza sauce and melted mozzarella cheese brings the bowl together for one indulgent dinner that fits right into your weight loss plan. This ready-to-eat meal contains only 270 calories, plus four grams of filling fiber. Click here to make it yours! >
Bacon and ranch and cheese—oh my! That's right, you get all three in this pie—plus, tender chunks of garlic-seasoned chicken, fire-roasted tomatoes and spinach on a wheat dough. The bacon is smoky, the ranch sauce creamy and the melted mozzarella helps keep the tasty toppers in place. A couple minutes in the microwave or 16 to 18 minutes in the oven and out comes a hot pizza pie, ready to fuel you with 18 hearty grams of protein. Click here to make it yours! >
The crusty bread is made with quinoa. The sauce is a sweet, roasted red pepper pesto. And the pieces of seasoned grilled chicken, extra peppers and beautiful basil help create a dish that is as pleasing to the eye as it is the palate. Admire it for a second, but then feel free to dig in: the entire flatbread only contains 230 calories. Click here to make it yours! >
There is a whole lot of yumminess in this 240-calorie bowl—beginning with the barbecue-style sauce. Its sweetness blends deliciously with the roasted chicken, red lentil pasta, black beans, riced cauliflower, kernels of corn and of course, cheese. Inspired by BBQ chicken pizza and packed with 19 grams of protein and four of fiber, trust that you won't miss the crust. Click here to make it yours! >
Meat lovers can have their pie, and eat it too. A thick crust serves as the base for tasty turkey pepperoni and Italian sausage that's smothered in tomato sauce and sprinkled with cheese. All it take is 12 to 14 minutes in the oven to cook and crisp the hearty dough, and you're ready to eat even faster than if you ordered and waited for a delivery. This frozen pie weighs in at only 260 calories, plus 15 grams of protein. Click here to make it yours! >
You get a little salt (from the crisp bacon), a little savory (courtesy of the caramelized onions) plus some sweet and smoky from the craft BBQ sauce for an explosion of flavor in every bite of this no-guilt flatbread. The quinoa crust is the perfect base for this Friday night pizza option, and you can eat it all for just 220 calories. Click here to make it yours! >
There's nothing like the fresh basil flavor of pesto in a pizza-inspired dish. Pair it with roasted chicken breast, red lentil pasta, tomatoes, melted mozzarella and bunch of beans and you have a dinner made to fill you up (20 grams of protein and nine grams of fiber!), without filling you out. Click here to make it yours! >