10 Creative Ways to Prepare Your Nutrisystem Foods
Article posted in:
Diet & Nutrition
Nutrisystem's meals and snack are delicious all on their own; they're simple to make and satisfying to eat. But if you have a little extra time in the kitchen, you can get creative with some Nutrisystem recipes using your favorite foods.
Try these 10 Nutrisystem recipes inspired by your favorite foods:
Oven-roasted turkey, Swiss cheese, thinly-sliced granny smith apples, red onions and baby spinach stack beautifully between two Nutrisystem Buttermilk Waffles to create a filling morning meal. And instead of mayo, mash heart-healthy avocado and Greek yogurt together into a creamy spread for your sandwich before putting it into the oven to melt the cheese or pressing it into a panini. Get the recipe! >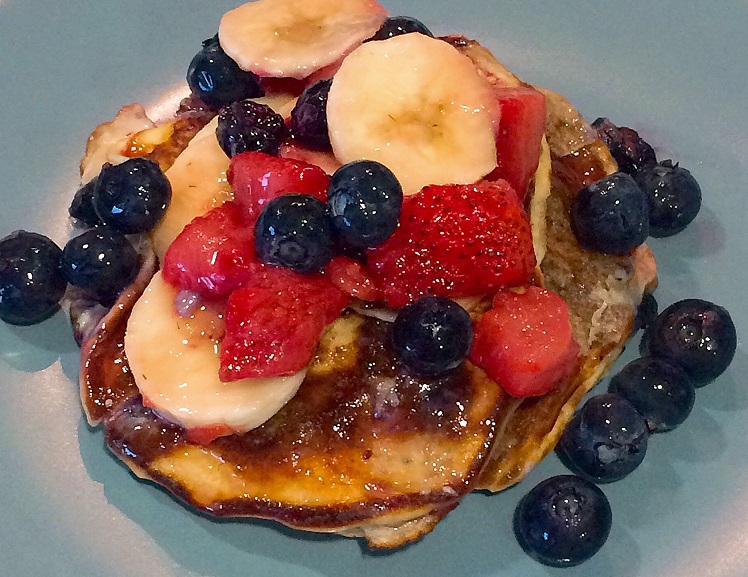 No need to wait for the Fourth of July to enjoy these patriotic pancakes. Made with egg whites and a vanilla Nutrisystem shake, this breakfast treat is packed with muscle-building protein for long-lasting energy. And feel free to skip the syrup: A DIY berry sauce—made simply by boiling blueberries and strawberries in a little water—adds the perfect amount of sweetness to this short stack. Top them with sliced bananas for a healthy mix of nutrients in every bite. Get the recipe! >
Forget those fat-filled pie crusts you find in standard quiches. This version uses the Nutrisystem Loaded Potato as the base for a much healthier and oh-so-tasty egg dish. Add broccoli and cheese, onions and garlic powder to the egg whites—and mix and bake into a hearty, 237-calorie meal you can enjoy in the morning, afternoon or evening. Get the recipe! >
If we didn't already have you at risotto, how about red bell pepper, baby spinach, sundried tomatoes, garlic and parmesan cheese—all baked into each flavor-packed cake. Plus, the Nutrisystem Mushroom Risotto you use in this recipe includes chunks of savory vegetarian Italian sausage alongside shitake mushrooms. The best part? You get to eat two risotto cakes in each serving! Get the recipe! >
When you're craving some comfort for lunch, this is the soup for you. Diced peppers and onions add flavor and nutrients to the broth and pure pumpkin puree brings in quintessential fall flavors. Stir in a package of the hearty Nutrisystem White Bean Chicken Chili and let the ingredients simmer into the perfect, savory soup for a cool autumn day. Get the recipe! >
It only takes a few extra ingredients to revamp the Nutrisystem Black Beans and Rice into an even heartier meal. Lean ground turkey pumps up the protein and cumin and fresh cilantro add signature Tex-Mex tastes. You could even toss some corn kernels in the mix for little bursts of sweetness. On Nutrisystem, this dish counts as one Nutrisystem Lunch, one PowerFuel, half a Vegetable and one Extra (and if add corn, one SmartCarb). Get the recipe! >
Nope, it's not weird to make chili into a casserole. It's actually a delicious idea and here's why: The Nutrisystem Vegetarian Chili—complete with four beans, zesty tomato sauce and spices—gets topped with a layer of creamy polenta, shredded cheddar cheese and baked into a golden brown and gooey meal. The polenta takes no time to make, and your fork will waste no time digging in. Get the recipe! >
These are just appetizing as ones you order in a restaurant—but so much healthier. Fresh jalapeno peppers get stuffed with a mixture of cheddar, cream cheese and chives. As if that doesn't sound delicious enough, you then top the popper with a crunchy layer of crushed Nutrisystem Creamy Ranch Snack-A-Rounds and bake. It's a great spicy snack for you or party-perfect app that packs a little heat. Get the recipe! >
If you suffer from a case of the midday blahs, consider these tasty little nuggets your remedy. They combine the flavors from the Nutrisystem Maple Brown Sugar Oatmeal with sweet figs and crunchy walnuts to create a bite-sized ball of energy. Pop two of these into your mouth to beat an afternoon slump. On Nutrisystem, they count as one SmartCarb and one PowerFuel. Get the recipe! >
This is one of customers' favorite Nutrisystem recipes. You already love the Nutrisystem Whole Grain Soft Pretzel—it's low in fat and calories and loaded with heart-healthy fiber and protein. So there's no doubt you're going to adore this recipe, which transforms the pretzel into a sweet and salty treat. Make more than one serving or be prepared to share. Get the recipe! >
For more Nutrisystem recipes, click on the link below to discover creative ways to eat your Nutrisystem Honey Wheat Bagel!